Asian-Inspired Superfood Overnight Oats
Toasted black sesame | Bubble tea | Matcha | Chocolate Goji | Taro
Overnight oats: Instead of cooking, the oats are soaked overnight and a "cold porridge" is created.

The slow soaking process is done to unlock more nutrients, create a meal that's softer on your digestion and bring SLOW-release energy throughout the day!

Our Ethos
We believe that your day should not begin with a sugary breakfast that provides empty energy.
Hi, I'm Jia. I infuse your daily oatmeal with my 5 favourite flavours of home to create nourishing, no-aded-sugar on-the-go breakfasts to empower busy individuals throughout their day.
Our mission is to bring the comforting taste of home to the Asian community in the UK while introducing new and exciting options to everyone.
The superfoods, protein, and fiber in every jar offer a moment of self-care at the start of (or any time during) the day. 
GET A JAR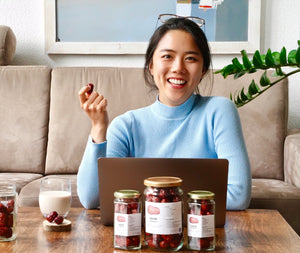 Some Facts About This Ancient Superfruit.
1. Despite its alternative name "red date", the jujube fruit is not a date but rather a species of Ziziphus in the buckthorn family.
2. Jujube is goji's soulmate, considered the perfect nutritional pairing in Asian cuisine.
3. It has origins in China dating back more than 4000 years.
4. It's sun dried on the tree.
5. It grows on a small deciduous tree or shrub reaching a height of 5–12 metres, usually with thorny branches.
6. It's used as a tradtional Chinese medicine for its benefits across beauty and health contexts.
Find Out More